Professional Water Restoration Is Best for Flatlands Warehouses
4/28/2022 (Permalink)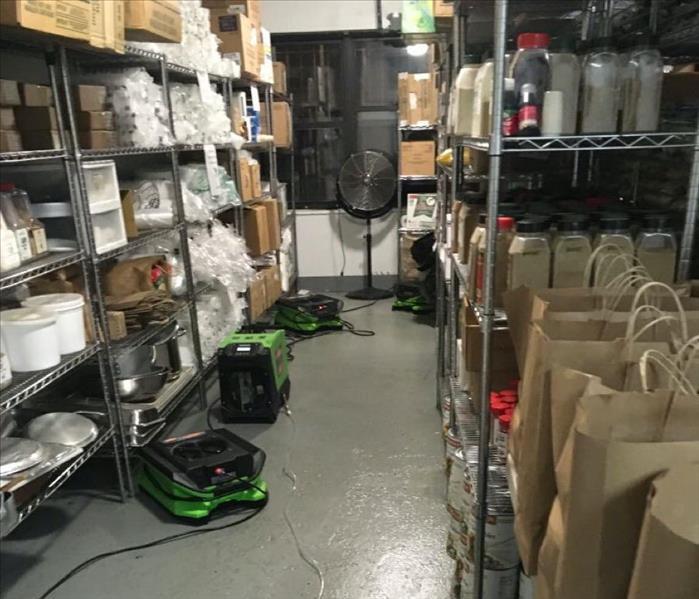 SERVPRO protects Flatlands warehouses stock from continuing water damage with swift removal, We're Faster To Any Size Disaster.
Several Factors Make SERVPRO a Wise Choice for Flatlands Water Restoration
Water damage is destructive and rapidly spreading. In production facilities, professional restoration is often necessary after:
Burst pipes
Leaks
Sprinkler system malfunctions
Flooding
Faster to Disasters
Among the chief reasons to consider professional water restoration for Flatlands production facilities and warehouses is the pace of our response. We have shown that we live up to our motto, We're Faster To Any Size Disaster, including large loss emergencies like burst pipes in commercial structures of the county.
Established Drying Goals

It is important to understand how long restoration and recovery efforts will occur. Downtime can be costly with a production facility like a warehouse or manufacturing plant. We set firm restoration goals and drying timelines to give the property manager a better idea of when work can resume, and production returns to normal.
Thorough Evaporative Drying
Drying is one of the key elements of every water restoration situation that our experienced professionals help with and one that should not be taken lightly. We not only have hundreds of drying tools to begin thorough and widespread evaporation of moist materials, but we can also check the progress of these units with thermal imagery and hygrometers to ensure a complete drying process.
Multi-Faceted Experience
Another unique benefit of choosing SERVPRO for the restoration and recovery of your business needs is the extensive experience we bring to the equation. We provide knowledgeable water restoration professionals, but we can also help in several other areas ranging from cleaning and drying to reconstruction. Some of the certifications include:
CCT – Carpet Cleaning
ASD – Applied Structural Drying
CDS – Commercial Drying
OCT – Odor Control
AMRT – Applied Mold Remediation
There are several advantages of pursuing credible and experienced restoration assistance after disasters to your Flatlands manufacturing facilities. Our SERVPRO of Mill Basin, Flatlands team can help with powerful mitigative strategies to protect the structure as much as possible during emergencies. Call us now at (718) 381-3271.