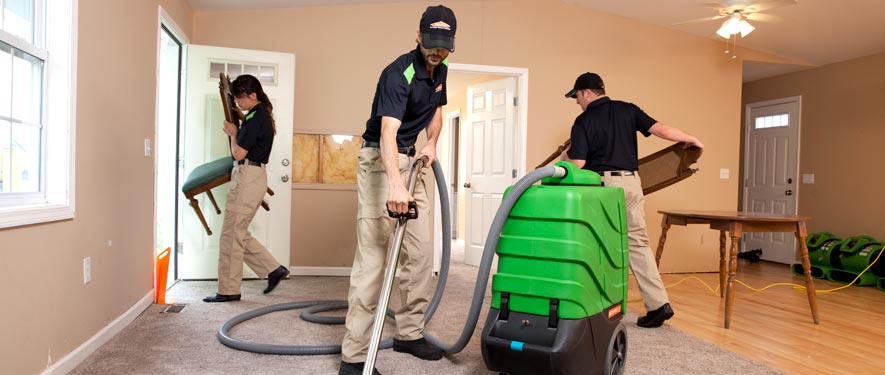 Residential Cleaning Services
Residential cleaning is a service that branched from our accredited services as a leading restoration team in New York. Now, we can help homeowners turn back the clocks on materials like carpets and walls with deep cleaning solutions that improve the aesthetic appeal of surface elements. Whether following a disaster or as a needed one-time deep cleaning situation, our SERVPRO team can help however it is necessary.
Post-Disaster Restoration and Cleanup
Disasters are often why our experienced team of restoration professionals showcases our cleaning expertise. Water, fire, storm, mold and biohazard situations can rapidly and completely overwhelm structures, leaving it to the knowledge and fast action of our SERVPRO team to start mitigation that protects the house and its contents, like:
Wet surface cleaning
Deodorization
Water removal
Debris cleanup
Drying
Deep Cleaning Options for Your Residence
Homeowners find multiple reasons to need a deep and intricate cleaning of their property. Whether it is being sold or they want assurances after a threatening exposure to viral pathogens, we have the means to help. In many ways, choosing professional services like carpet cleaning is less complicated and troublesome than renting equipment, buying products, and moving the tools yourself.
Residential Certified: SERVPRO Cleaned Program
More than ever, homeowners appreciate the importance of doing more to combat viral and bacterial pathogens those in the home might become exposed to daily. We developed an intricate cleaning program to introduce powerful disinfectant products and practices to residential recovery.
Need Cleaning Services?
Call Us Today – (718) 381-3271
Residential Cleaning Services include:
The SERVPRO carpet and upholstery cleaning service will not only get out the dirt you see, but will also remove the unwanted dust you don't. A professionally cleaned carpet and furniture may make all the difference in brightening up a room and freshening up your home.
We all have tasks around the house that don't make it to the top of our priority list. Properly maintaining your home's air ducts should not be one of them. Regular duct cleaning can increase your home's heating and cooling efficiency and improve the quality of the air you and your family breathe.
Your basic cleaning service is not going to have the expertise to effectively deodorize your home. Take advantage of SERVPRO's residential cleaning services to remove unwanted odors.
Our experts are ready to assist in the clean up of sewage and other biohazard materials and provide deep cleaning services for your home. Find out more about our franchise professionals.